Asyrizulfitri Bin Che Hasan, Asyrizulfitri (2011) Effect of Biomass Pre-Treatment on Bio-Oil Yield. [Final Year Project] (Unpublished)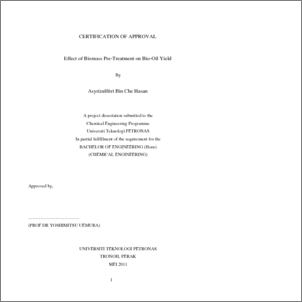 Preview
PDF
Asyrizulfitri_Bin_Che_Hasan_10294_Body.pdf
Download (3MB)
Abstract
The alternative separation processes for biomass components, steam explosion is considered to be
one of the most important. The attractive features of steam explosion in comparison to
autohydrolysis, pulping and other methods include the potential for significantly reducing the
environmental impact; the investment. The research on biomass conversion technology has
attracted great attention of the world along with the shortage of fossil energy resources. But the
effect and efficiency of the pretreatment technique now used in biomass conversion are not so
perfect. Using new steam explosion technique as a pretreatment process of biomass conversion
has been reposted rarely. The mechanism of steam explosion and its application effect in biomass
conversion and utilization were introduced and analyzed respectively.
Actions (login required)