Hussain Alghafli, Mohammad (2012) Quality of Service Support in UMTS Systems Using IP Backbone Network. [Final Year Project]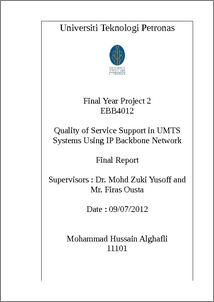 Preview
PDF
11101_FYP_2_FINAL_REPORT.PDF
Download (14MB)
Abstract
Mobile networks technology evolves very fast and attracts huge investments. Due
to the evolution of mobile phone networks, more investments need to be present. UMTS
is a 3G network system which was designed with an idea of utilizing already made
investments. UMTS design takes advantage of existing 2G equipment as much as
possible by using those equipment in the system with minimum additional investment
and modification.
UMTS can be split into 3 main parts, user equipment, radio access network and
core network. This project focuses in the core network. The core network can be
implemented in several ways, one of which is IP backbone network. Having IP
backbone network in UMTS introduces issues regarding quality of service that need to
be dealt with.
Research exist regarding IP backbone network in UMTS. However, most research
in this area explains and analyzes the IP backbone in UMTS theoretically, suggesting
ways to deal with those issues and improve quality of service. This project aims to
implement actual IP backbone network in UMTS and solve any issues related to the
implementation. This project is expected to give results regarding quality of service in
UMTS with IP backbone. It also aims to improve quality of service in the
implementation.
The implementation of UMTS network in this project is done via simulation tools.
The network is going to be implemented in a network simulator and results are
analyzed. Improvement is done to the implementation to achieve better results.
Although improvement is one goal of the project, the main aim of the project is to see
actual results from an actual IP backbone implementation and see how close it matches
theoretical results.
Actions (login required)