Nirash A/L K. Presanth, Nirash (2011) Blend of Biodiesel from Refined Corn Oil and treated Jatropha Curcas L. Oil : Effect on Oxidation Stability, Pour Point and Cloud Point. [Final Year Project] (Unpublished)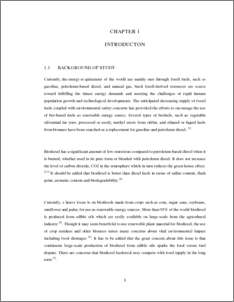 Preview
PDF
Dissertation.pdf
Download (789kB)
Abstract
The purpose of this project is to find an alternative to the usage of edible oil in the biodiesel production. It is evident that biodiesel, an alternative renewable fuel made from transesterification of oil with alcohol is a norm worldwide. However, mostly edible oils are used in the production biodiesel and this caused a concern in different parts of the world (e.g Asian countries) as they are not self sufficient in edible oil. Hence, non-edible oil options are being viewed, for example Jatropha Curcas L. Oil.
In this report, the type of edible oil chosen is refined corn oil (RCO) and the type of inedible oil chosen is Jatropha Curcas L. Oil (JCO). The first part of the report contains the acidity value checking for both RCO and JCO. Then, it is followed by pre-esterification reaction procedures to reduce the acidity value of the oil with high acid content (> 3%). This is continued by the transesterification procedure to produce refined corn oil biodiesel (RCBD) and Jatropha Curcas oil biodiesel (JCBD) from RCO and JCO respectively.
Next, the water content of RCBD and JCBD are checked and after that gas chromatography tests are done on both biodiesels. The next segment discusses the blending between RCBD and JCBD into various compositions (JCBD, JCBD-1. JCBD-2, JCBD-3, JCBD-4 and RCBD). Three important aspects that are taken into considerations are the oxidation stability (OS), cloud point (CP) and pour point (PP) of the blending. Since the OS of RCBD is inferior compared to JCBD, it is to be determined if it is possible to adhere to EN-14112 specifications while blending of various composition is done. Whereas, since the PP and CP of JCBD is inferior compared to RCBD, it is to be made sure that the blending meets the required standard.
Actions (login required)