Ahmad Khalil, Ahmad Iqbal Fahmi Bin (2012) INTELLIGENT CONTROL OF DC MOTOR. Universiti Teknologi PETRONAS.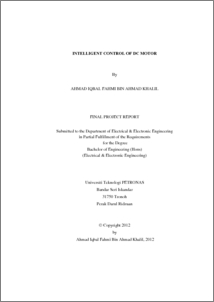 Preview
PDF
12486_Final_Year_Project_Report_Hardbound.pdf
Download (1MB)
Abstract
DC Motor still plays a very important instrument in industrial field though many new designs have been develop. The current way of controlling DC Motor is by using PI feedback controller in order to achieve the set point. PI controller has been selected as the result of it advantages compare with the other types. However PI controller also contain a lot of disadvantages thus which proposed the author to proposal a new intelligent type of DC Motor controller which use Fuzzy Logic algorithm and called Fuzzy Logic Controller (FLC). Due to this thesis, Fuzzy Logic Controller has been design and fabricate. This new controller is using microcontroller, PIC 16F877A as the main device to do the decision making and been programmed using C language. The test then been conducted on PI Controller and Fuzzy Logic Controller to compare the efficiency in controlling the DC Motor. Based on the result, Fuzzy Logic Controller gives better performance compare with PI Controller. For the further studies other intelligent approach was been suggested instead of using Fuzzy Logic algorithm.
Actions (login required)