MUHAMAD NASIR, NIK NURSHAHIRAH BT (2012) DESIGN & FABRICATION OF AUTONOMOUS ROBOT FOR SECURITY MONITORING. [Final Year Project]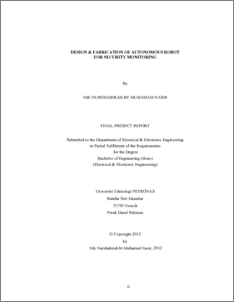 Preview
PDF
FINAL_REPORT_NIK_NURSHAHIRAH_BT_MUHAMAD_NASIR_11402.pdf
Download (2MB)
Abstract
Nowadays, autonomous robots are widely used for various applications area from
sciences and industries to military and security monitoring. Generally, the
autonomous robot is capable to navigate on its own in a known environment. This can
be implemented when robot can do its own decision making with having the
movement mechanism and the environmental sensors to analyze the surrounding to
perform the task with respect to requirement. This project focuses on designing and
fabricating the autonomous robot for 24 hours security monitoring with less human
intervention. This robot is equipped with microprocessor, sensing systems, and
wireless camera for security monitoring. When the autonomous robot detects any
safety related issues, the alarm on the robot will be triggered and at the same time the
situation will be send to wireless camera for human monitoring to take any sufficient
respond afterwards. 24 hours security monitoring robot is found to be a practical
solution to be implemented for security purposed in order to make sure any safety
issues is in controlled.
Actions (login required)