HISHAMUDDIN, AZRINA BINTI (2012) MODELLING OF LINEAR PERMANENT MAGNET MOTOR FOR AIR-VAPOR COMPRESSOR. [Final Year Project]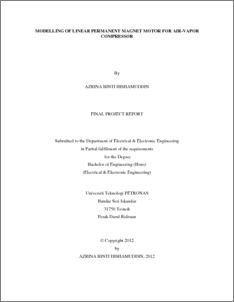 Preview
PDF
MODELLING_OF_LINEAR_PERMANENT_MAGNET_MOTOR_FOR_AIR_VAPOR_COM.pdf
Download (1MB)
Abstract
Power consumption of refrigerator is the top three among the various household
appliances. This is because of the lack performance and efficiency of the conventional
refrigerator compressor system.
This paper describes about the design of linear permanent magnet motor for
reciprocating air-vapor compressor application. There are various types of linear motor
technologies and topologies for air-vapor compressor that have been discussed, such as,
linear induction machine, linear synchronous machine, linear DC machine, and linear
permanent magnet machine. The significant designs criteria considered are based on their
force capability, higher efficiency, simplicity and cost-effectiveness. Among the linear motor
technologies reviewed, a linear permanent magnet machine is the most preferable
technologies for the reciprocating air-vapor compressor application due to the high thrust
capability and efficiency. There are three categories of the linear permanent magnet, which
are, moving-coil, moving-iron, and moving-magnet.
This paper is mainly focused on the moving-magnet topologies which considered a
tubular permanent magnet, a slotted and a slotless stator, and also a different type of magnet
configuration for the reciprocating air-vapor compressor application. The linear permanent
magnet topologies have been studied and analyzed in order to obtain the best three designs
for the reciprocating air-vapor compressor application.
ANSYS software, ANSOFT Maxwell, is used to draw and analyze the proposed
designs to get the results of air-gap flux distribution, air-gap flux density and the respective
graph. The result for the three designs will be compared discussed in order to choose one best
design for air-vapor compressor application. In conclusion, the best design obtained can be
apply for air-vapor compressor to increase efficiency, performance and reduce the energy
consumption as well.
Actions (login required)