Masuri, Ahmad Fauzie Bin (2009) SYNTHESIS AND CHARACTERIZATION OF ZnO-CNTs FILLED PVA COMPOSITE AS EM DETECTOR. [Final Year Project]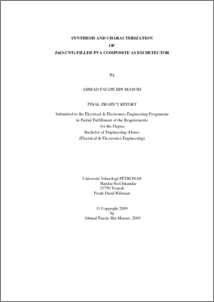 Preview
PDF
FYP_Final_Report.pdf
Download (27MB)
Abstract
An Electromagnetic (EM) composite based detector filled with ZnO and
carbon nanotubes (CNTs) nanoparticles was developed. This work premise deals
with synthesis of ZnO using self combustion and sol-gel techniques. These two
techniques were chosen in order to compare which technique will give a better
result of ZnO nano structure. The mixture consists of 10grams of zinc (II) nitrate,
Zn(NO3)2.6H2O salt was dissolved in 50mL of nitric acid, HNO3 and stirred at
250 r.p.m continuously for 24 hours. The mixture was then gradually heated for
every 15 minutes until it combusted at 110oC for the self combustion technique.
For sol gel technique, the dissolved mixture was heated at 40oC, 50oC, 60oC and
70oC until the gelatin is formed. After drying process, the as-prepared samples
were annealed at 150oC and 250 oC for 2 hour for each technique. Morphology
and phase characteristic was covered in the characterization part.
Characterizations were done by using X-Ray Diffractions (XRD), Energy
Dispersion X-ray Spectroscopy (EDX) and Field Emission Scanning Electron
Microscope (FESEM). Single phase crystal nano structure of ZnO was successfully obtained. The morphology of ZnO is shown in the nano-size dimension. These samples were used as additive to the PVA composite detector.
The PVA composite was prepared using casting method. The result from the testing and validation part shows that the presence of ZnO and CNTs as a filler in the PVA composite detector can enhance the detection up to 70%.
Actions (login required)