HASHIM, NIK SITI RASHIDAH BINTI (2009) A Study On The Problem Of Heating Effect At The Generator's Neutral Earthing Resistor (NER) In UTP Gas District Cooling (GDC) When The Generator Is Connected In Parallel With TNB Supply. [Final Year Project]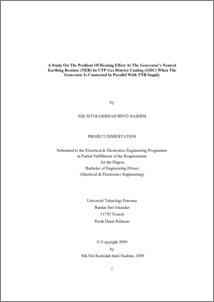 Preview
PDF
PROJECT_DISSERTATION_NIK_SITI_RASHIDAH_BINTI_HASHIM.pdf
Download (4MB)
Abstract
This report basically discusses the preliminary studies done and overview of
the chosen topic, which is A Study On The Problem Of Heating Effect At The
Generator's Neutral Earthing Resistor (NER) In UTP Gas District Cooling
(GDC) When The Generator Is Connected In Parallel With TNB Supply. The
objective of the project is to study the heating effect on the generator's NER at GDC
during parallel operation with TNB supply and propose recommendation to mitigate
this problem. In UTP, electrical power is supplied from two generator units at Gas
District Cooling (GDC). During parallel operation with TNB supply, it is observed
that the generator's neutral earthing resistor (NER) is getting hot. The primary
purpose of inserting NER between the star point of a generator and earth is to limit
earth fault current. The temperature of NER is rising due to circulating current during
island operation and parallel operation. The scopes of study for this project are
literature review on embedded generator parallel operation with grid supply. Then,
study GDC, UTP and TNB single line diagram follow by running simulation for the
entire system using PSCAD software and also MATLAB. Besides that, the scope of
this project also to conduct the data measurement and do the analysis to prove with
the simulation. Lastly, propose recommendation action to improve the system.
Actions (login required)