MOKHTAR, NATASHA BINTI (2009) BEAM ROBOTIC. [Final Year Project]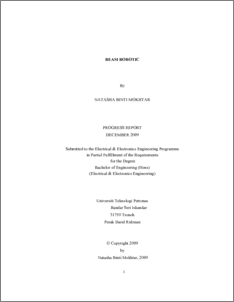 Preview
PDF
final_report.pdf
Download (1MB)
Abstract
BEAM is an acronym of biology, electronic, aesthetic, and mechanical. BEAM is a
robotic technology which is simple to apply where it does not required programming.
Thus it is based on natural response of the robot. Solar power and neural network of
BEAM robotic were studied in this report. Solar power could be used for smaller and
less power consume BEAM robot. The neural network was studied as part of the robot
brain. The system studied is quadcore and bicore. Quadcore test give the information on
how the motor would react from the neural network. There are three photovore had
been construct in this project. All these three had different reaction on the light. The
project will include the selection design and component to be used to construct the
BEAM robot. This report will mainly reflect literature review and result and discussion
of this project.
Actions (login required)