MOHAMED ELSAYED TORKY, OMAR (2009) PC BASED SCADA SYSTEM FOR REVERSE OSMOSIS DESALINATION PLANTS. [Final Year Project]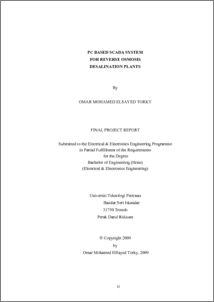 Preview
PDF
Desseritation_O.Torky_Scada_For_RO.pdf
Download (69MB)
Abstract
Reverse osmosis Desalination plants are a widely used application of water treatment
engineering all over the world. Therefore devising control systems for these plants is
a must in our modern automated industrial world as different systems has been
devised yet their technology became obsolete by time. On the other hand complicated
and over rated control systems are not convenient to use with these types of plants,
especially for remote areas. Therefore, coming up with a monitoring system to
monitor and control a Reverse Osmosis water treatment plant is a convenient solution
with computer based software. The plant can be monitored using a PC enhanced with
industrial automation software like LABVIEW® and a data acquisition card to build
up a SCADA system for the water treatment plant. This work illustrates the structure
and the installation of a flexible and low cost SCADA system. An ordinary PC with
the appropriate interface and software operates the system. The system is installed to
a lab scaled water plant which is designed and built. The system has proved the
practicality of PC based SCADA systems over the conventional control systems.
Actions (login required)