YIEW , DE AN (2009) SUSTAINABLE SOLAR-WIND HYBRID POWER PLANT IN MALAYSIA. [Final Year Project]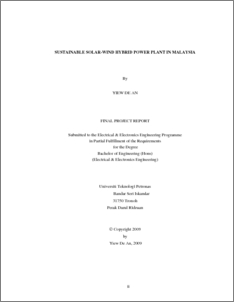 Preview
PDF
FYP_Final_Report_-_Yiew_Dean_7789.pdf
Download (6MB)
Abstract
The aim of this project is to carry out studies on the development of a solar
and wind hybrid power plant in Malaysia. Solar and wind energy are renewable
sources of energy that can be used for electrical power generation. The government of
Malaysia has expressed its interests and commitment towards developing the
renewable energy sector as stated in the 9th Malaysian Plan. Solar and wind energy
sources are intermittent sources of energy. They are not available on demand and
necessary implementation of backup systems is to be arranged to obtain a reliable
supply. The reliability and overall performance of solar and wind power plants can be
improved by implementing a hybrid system where both the solar and wind plants
supplement each other to further enhance their energy harvesting capability. This
project is to study the feasibility of a hybrid plant as compared standalone solar and
wind power plants in areas pertaining to the reliability and sustainability of our
energy sources. In addition to combining both power sources, the efficiency factors of
solar powered systems were studied to further improve the overall performance of the
hybrid system. Initially, at the theoretical development stage, the modeling equations
were formulated for sizing simulations. Results were used for the construction of a
prototype. The results obtained from this study includes data indicating factors, such
as solar positioning, PV operating temperatures, PV efficiency, solar irradiance, and
operating locations that affect solar power output of PV arrays and comprehensive
sizing data for local implementation, while at the same time, addressing issues
pertaining to reliability and sustainability of existing standalone solar power plants.
Actions (login required)