Rosli, NADIA BINTI (2009) PID CONTROL OF ELECTRONIC THROTTLE FOR DRIVE-BY-WIRE APPLICATION. [Final Year Project]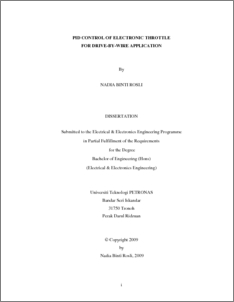 Preview
PDF
FYP_NADIA.pdf
Download (2MB)
Abstract
The main purpose of this project is to research and design PID controls for
an electronic throttle at UTP's Automotive Research Centre. Electronic throttle for
Drive-By-Wire applications is an advanced technology that replaces mechanical
function of an engine by sophisticated fast responding electronic. The PID control
on electronic throttle will improve the efficiency of the air intake into the engine by
controlling the blade opening of the electronic throttle. With Ziegler-Nichols tuning
method, this controller will modulate the opening of throttle blade to the desired
opening. This project will require knowledge in every aspect of PID control from
software applied and hardware needed to realize the objective of this project.
Actions (login required)