CHE SOH, NOR AFFENDI BIN (2009) TEMPERATURE CONTROLLER FOR AUTOMOTIVE ENGINE RESEARCH. [Final Year Project]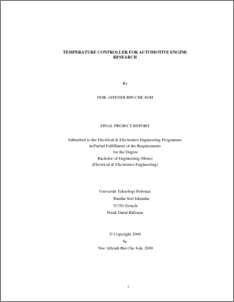 Preview
PDF
FYP_Final_Report.pdf
Download (1MB)
Abstract
This report basically discusses the preliminary research done and basic understanding
of the chosen topic, which is Temperature Controller for Automotive engine
Research. The research engine is known as Homogeneous Charge Compression
Ignition (HCCI). HCCI engine operation is based on the compression of lean mixture
of hot air with fuel. Thus the temperature of the air needs to be controlled before it
mixes with the fuel. The main objective of this project is to investigate different
temperature control algorithm and to implement on hardware by fabricating a
controller using a temperature control IC. The controller will be tested on a gas
heating chamber. Lastly, there will be a data acquisition using the labVIEW software.
There are two main phases for this project. The first phase focuses on connection of
all the hardware including temperature controller, Solid state relay (SSR),
thermocouple and heater to the HCCI engine. While the second phase of the project is
to perform data acquisitions (DAQ) of the temperature control using labVIEW
software.
Actions (login required)