Anuar, Siti Hajar binti (2009) BLOOD PRESSURE MEASURING DEVICE EMBEDDED WITH SMS CAPABILITIES. [Final Year Project] (Unpublished)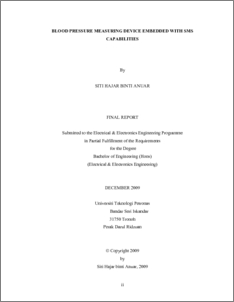 Preview
PDF
final_report_hajar.pdf
Download (12MB)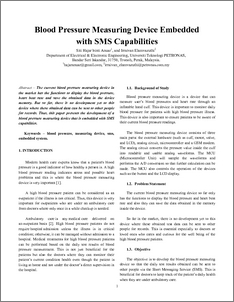 Preview
PDF
Technical_paper_FYP2_hajar.pdf
Download (837kB)
Abstract
For a high blood pressure patient, checking their blood pressure at home is an
important part in managing high blood pressure (hypertension). It is recommended that
anyone with high blood pressure to monitor their blood pressure at home. This home
monitoring can help them keep tabs on their blood pressure in a familiar setting, make
certain their medication is working, and alert the patient and the doctors to potential health
complications. Doctors can use the measurements to see how well the medicine is working
to control the high blood pressure. The current blood pressure measuring device in the
market has the functions to display the blood pressure, heart beat rate and save the obtained
data in the device memory. But so far, there is no development yet to this device where
these obtained data can be sent to other people for records. Thus, this project presents the
development of a blood pressure measuring device that is embedded with SMS
capabilities.
Actions (login required)