Othman, Syaza (2009) Foundation Fieldbus Interoperability Test, System Configuration and Loop Design-(EMERSON). Universiti Teknologi PETRONAS.

Preview
PDF
Cover_page_DISSERTATION.pdf
Download (5kB)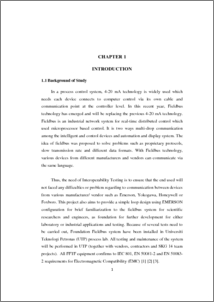 Preview
PDF
dissertation.pdf
Download (1MB)
Abstract
This project aims to perform Interoperability Testing of Foundation Fieldbus System, analyze the result and design loop and system configuration for implementation to the real devices. The FFIT project is a collaboration project between Universiti Teknologi PETRONAS and PETRONAS Group Technology Solutions (GTS). For this project, the host system will be Emerson using Delta-V software, and several instruments from various manufacturers. There are 3 stages of tests under Interoperability Test which widely known as basic test, Stress test and Diagnostic test. Since the project is a continuation project, the scope of this project will be narrow down to basic testing, system configuration and loop design only. The outcome of the results will be analyzed as for reference for future implementation in PETRONAS group wide. The project requires a deep understanding on the fieldbus technology which include fieldbus technology architecture, wiring, control system and communication network. From the project, fieldbus system for Emerson host is found to be interoperability to various devices from other manufacturers and the system can operates effectively with lesser error or communication problem occur.
Actions (login required)