MUHAMAD RANI, NORMAN NAIM (2009) ROBUST SEGMENTATION AND PART TRACKING IN HSV/YCbCr COLOR SPACE. Universiti Teknologi Petronas.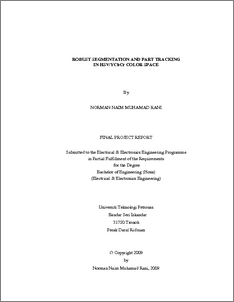 Preview
PDF
cover_and_abstract.pdf
Download (75kB)
Abstract
RGB Color Space is widely used for face segmentation in recent years. However, the RGB color space is not very much friendly with face detection based on skin color classification. In this project, algorithm for a robust segmentation in YCbCr or HSV color space to segment video images for purposes of tracking in stereo vision tracking system are performed. The system developed is able to segment video images of interest which is the human body using a web camera. The system will used robust segmentation and part tracking in YCbCr or HSV color space. Upon segmentation, the system is enable the various segments to be tracked individually or as a group to correctly identified the tracked target.
Actions (login required)