SOHAIMI, SITI ATIQAH BINTI (2009) Modeling and Simulation of Three Phase Induction Motor For Digital Control. Universiti Teknologi Petronas. (Unpublished)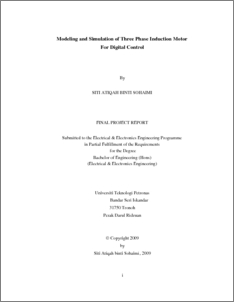 Preview
PDF
FYP_SITIATIQAHSOHAIMI_7529_finalreport.pdf
Download (941kB)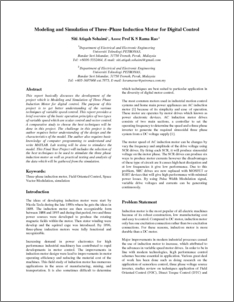 Preview
PDF
FYP_SITIATIQAHSOHAIMI_7529_technicalpaper.pdf
Download (161kB)
Abstract
This report basically discusses the development of the project which is Modeling
and Simulation of Three Phase Induction Motor for digital control . The purpose of this
project is to get better understand ing of the various techniques of variable speed control.
This report provides a brief overview of the basic operation principles of two types of
variable speed induction motor which are scalar control and vector control. A comparative
study to choose the best techniques is reported in this project. The challenge in this project
is the author requires better understanding of the design and the characteristics of the
model. The author also requires basic knowledge o f computer programming to understand
and use MATLAB/SIMULINK Tool Box. Lab testing will be done to stimulate the model .
This Final Year Project will include the selection of the best techniques to be used to
stimulate the three-phase induction motor as wel l as practical testing and analysis of the
data which will be gathered from the s imulation.
Actions (login required)