Noraini, Norashikin binti (2009) SOLIDIFICATION/ STABILIZATION (S/S) AND IMMOBILIZATION OF ZINC ION-CONTAINING SUDGE USING FLY ASH AND PORTLAND CEMENT. Universiti Teknologi Petronas.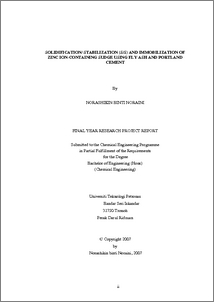 Preview
PDF
dissertationshikin.pdf
Download (657kB)
Abstract
Most industrial processes generate wastes in various amounts. The wastes may be hazardous depending on the type of processes and raw materials. Handling all wastes disposal is important to minimize impact to the environment and reduce investment costs. This report intended to point out the outcomes of the project entitle ―Solidification/Stabilization and Immobilization of Zinc ion-containing sludge using Fly Ash and Portland cement‖. The main objectives of this project are to obtain the leaching rate and strength of the solidified concrete. The characteristic of the sludge was analyzed by SEM, XRD, SEM and AAS. Then the sludge was bind with the fly ash and Portland cements become concrete and left for curing for 28 days. The concrete then analyzed in term of amount of Zn leached and its strength behavior. The effect of fly ash to the concrete was studied. The optimum ratio which gives the best leaching and strength is at 15% of sludge, 15% fly ash and 70% of cement. The discussion part will explain more about the result including the error occurred during the experiment. The recommendation for improvement also provided at the end of this report. As a conclusion, this experiment is successful to solidify the Zn and producing good strength of concrete which can be further use as a construction material.
Actions (login required)