DEBULLY SALIANG, ARNOLD (2009) DETECTION OF CORROSION INSIDE A LIQUEFIED NATURAL GAS PIPELINE USING CAPACITOR SENSOR. Universiti Teknologi PETRONAS.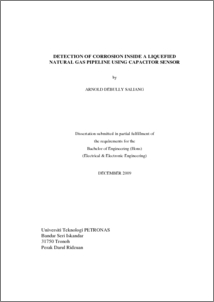 Preview
PDF
01_DISSERTATION_COVER_PAGE.pdf
Download (5kB)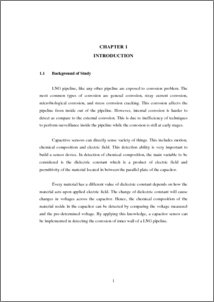 Preview
PDF
03_DISSERTATION_PAGE_1-14.pdf
Download (252kB)
Abstract
The paper presents the implementation of parallel plate capacitor as a sensor in detecting corrosion in liquefied natural (LNG) gas pipeline. In oil and gas industry, usages of sensors are very common for monitoring and maintenance purpose. Specifically in pipeline maintenance work, one of the most well known applications of sensor in pipeline inspection is smart pig which is used in-line inspection maintenance. However, this operation is so expensive hence often performed only after the damage in the pipeline already occurs. To increase the efficiency of maintenance work, a capacitive sensor can be used to perform corrosion detection in pipeline. If the sensor is capable to detect corrosion during the early stage of corrosion, early action can be performed before any accident could occur. This will also avoid any accident from happening and ultimately avoid environment impact and life lost.
Actions (login required)