Mohamad Azril Bin Mohd Radzali, Mohamad Azril (2011) Conversion of Bio Oil to Bio Diesel Through Reactive Distillation Approach. [Final Year Project] (Unpublished)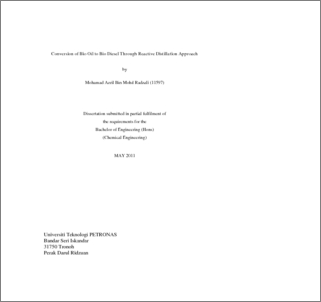 Preview
PDF
Mohamad_Azril_Bin_Mohd_Radzali_(11597).pdf
Download (832kB)
Abstract
This report is about an understanding about the final year project topic entitled ‗Conversion of Bio-Oil to Biodiesel through Reactive Distillation Approach'. The method consist of treating bio-oil with a high boiling alcohol like n-butanol in the presence of a (solid) acid catalyst at 323k – 353k under reduced pressure (<10kPa).
The future energy shortage has started the exploration of renewable energy source such as biodiesel. Biodiesel is mono-alkyl esters derived from vegetable oils and animal fats, and alcohols of lower molecular weights in the presence of catalysts. Biodiesel can be made through esterification process by mixing the bio oil and alcohol together with presence of catalyst.
The yield of conversion must be improved and also the reactant material has to be optimized. For the first chapter of this progress report, it will cover the information regarding the problem statement and also the background of study.Meanwhile, the theory and literature reviews will be explained on second chapter. The definition of biodiesel, bio oil and the reactive distillation are being further explained on this section. At last, this report is describing the methodology used in this project. The comparative studies will be applied to test the sample of biodiesel product.
Actions (login required)