Hazim Bin Haji Hanipa, Hazim (2009) Fenton Oxidation of Leachate Effluents. Universiti Teknologi Petronas, Sri Iskandar,Tronoh,Perak. (Unpublished)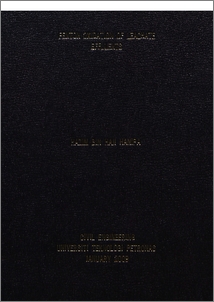 Preview
PDF
hazim_b_hj_hanipa.pdf
Download (19MB)
Abstract
The objective of the project is to determine the removal efficiency of Chemical Oxygen
Demand (COD) and the heavy metals by using Advanced Oxidation Process (AOP). The
current methods of treating leachate are very high in cost. The simultaneous use of
Fenton reagent for the treatment of leachate wastewaters generated during a hydrogen
peroxide bleaching process is investigated. The experimental conditions tested during
this study provide the simultaneous occurrence of Fenton reaction. The batch
experimental results are assessedin terms of chemical oxygen demand (COD) reduction.
Other pollution related features of the initial effluent like colour was also measured. A
set of experiments was conducted under different reagent concentration with the aim to
ensure the stable COD came at the end of experiments the combination of Fenton
reaction has been proved to be highly effective for the treatment of such a type of
wastewater and several advantages for the technique application arise from the study.
Leachate from Pulau Burung Sanitary Landfill located in Pulau Pinang, non-hazardous
landfill (pH 8.6; COD= 2600 mg 1-')was laboratory tested in different operative
conditions, i. e., initial pH, Fe2+/H202 ratio, concentrations and reaction time. In this
experiment, author change the weight of ferum (II) sulphate from 325.8 mg to 651.6 mg
to see how the combination of three variables namely ferum (II) sulphate, pH
adjustment and hydrogen peroxide react among them to treat to leachate sample. For the
first part, the author used hydrogen peroxide without any combination with ferum (II)
sulphate. However, it did not come out with good results because the result encountered
with the purpose of project because COD value for all of samples increased
immediately. The author believed that hydrogen peroxide acted as a stimulator in
leachate sample. Maybe there are organic matters stimulated by hydrogen peroxide. As a
result, the COD value rise beyond the original reading. The experiments' results have
shown that low or high pH level, the possibility of COD removal efficiency is high. At
the end of research and development, the author succeeded to achieve the highest total
COD removal which is 37% of total COD removal.
Actions (login required)