Muhammad Lutfirrahman Sahdan, Muhammad Lutfirrahman (2009) Comparison of Electro-Osmosis and Prefabricated Vertical Drain for Kaolinite Soil Stabilization. Universiti Teknologi Petronas, Sri Iskandar,Tronoh,Perak. (Unpublished)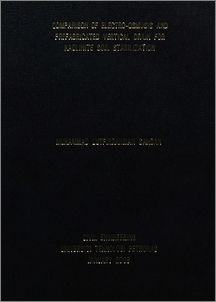 Preview
PDF
mohd_lutfirahman.pdf
Download (22MB)
Abstract
Flectro-osmosis and Prefabricated Vortical Drain (PVI)) with surcharge are Iwo
common methods is soil stabilization and this report is the preliminary research done to
study the comparison between these methods on Kuolinite soil stabilization. A series of
experiments will he conducted during the research period to investigate the effect of
electro-Osmosis,PVD and electro-osmosis with PVD to the soil water content, shear
strength, rate of settlement, Liquid and Plastic Limit,. The experiments will he
conducted on disturbed sample in a elect ro-osmosis box. The controlled parameters in
the experiments are voltage applied, electrode distance and duration of experiment
conducted. Through this research it shows electro-osmosis is 1. and 4.2 times more
effecttive than PVD with surcharge for stabilizing kaolinite soil in term of reducing
moisture content and increasing shear stress.
Actions (login required)