Ahmed Fatah Alrahman Ahmed Mohammed, Ahmed Fatah (2012) Effect of Different Drilling Fluids on Reservoir Skin Factor. [Final Year Project] (Unpublished)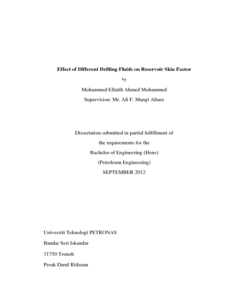 Preview
PDF




Final Report FYP, Mohammed Elfatih 14130.pdf


Download (1MB) | Preview
Abstract
Drilling operations and specially drilling fluids has big impact on formation damage
leading to high skin values and low productivity due to permeability impairment. Even
slight formation damage in a well can result in significant loss of revenue; hence it is
from the essentials to reduce formation damage caused by drilling operation and
specially drilling fluid.
Bentonite is the common material that used as base (gel) in Water Based Mud (WBM),
hence this paper aims at reducing formation damage through investigating alternative
drilling fluids by replacing Bentonite with milled Bentonite which has particle size less
than 63µm in Water Based Mud. Different rheology and filtration tests under different
conditions have been conducted to asses filter cake performance of each mud.
Results from the experiments shows that milled Bentonite mud performance in HPHT
conditions is much better than its performance in LPLT conditions and is also better
than the performance of normal Bentonite under both conditions.
In the LPLT conditions, milled Bentonite based mud results in 12% less filtration rate
compared to normal Bentonite, this percentage raises dramatically up to 65% in the
HPHT conditions. As milled Bentonite mud produces less filtrate volume, it is expected
to result in higher filter cake quality and hence less skin factor compared to the normal
Bentonite based mud.
Actions (login required)