Zulkifli, Aiman Naim (2012) LINUX BASED APPLICATION LAYER FOR VEHICLE BASED ROAD/ENVIRONMENT CONDITION WARNING SYSTEM USING VEHICLE AD-HOC NETWORK (VANET). [Final Year Project] (Unpublished)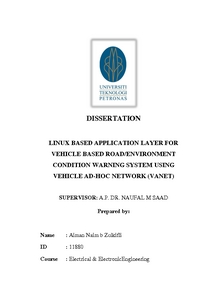 Preview
PDF




AIMAN NAIM BIN ZULKIFLI FYP DISSERTATION.pdf


Download (964kB) | Preview
Abstract
Road accidents kills a lot of people. With recent development in the transportation
industry, a lot of vehicles are produce everyday for road usage. The development of
the vehicle now focuses more on the efficiency of the vehicle and the safety of user
and the surrounding. Safety is one important factor that helps selling this vehicle. To
increase the safety of the vehicle, many vehicle manufacturers has implement new
safety features like air-bags, electronic braking system and many mores. Not to
forget the basic safety feature which is the safety belt or also called seat belt. These
safety feature will not help reduce road accidents but it helps minimising the damage
done to people inside a vehicle.
Prevention is better that cure. An english proverb that means it is better to try stop a
thing from happening than to fix it when it happened. From other point view, we can
make do something to prevent road accident but the safety features cannot be
neglected as it reduced the damage. Collisions on the road can be avoided if the
driver is warned a few moments between the collision.
This study is focusing on the wireless communication between vehicle in order to
warn the driver about dangerous situation ahead so that the driver can react
accordingly. This is also include analysing dangerous condition while driving to aid
the system send a warning message to other driver.
Actions (login required)