Husini, Mohd Hazmi (2012) Characterization of Linear Motor. [Final Year Project] (Unpublished)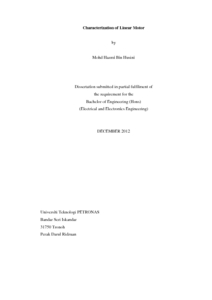 Preview
PDF




Dissertation_Mohd Hazmi Bin Husini_13474.pdf


Download (2MB) | Preview
Abstract
Development of linear technology has increased recently for industrial purposes. In
certain application especially in automation field, linear motor is more preferred
compared to the conventional rotary motor. It is due to the advantages that linear
motor can offer such as speed, position control, cost effective, no maintaining and
many more. So, for student, linear machine can be considered as important as rotary
machine and research, study and experiment should be encouraged by the university.
From this project of Characterization of Linear Motor, the author as assigned to set
up and configure the hardware and software of linear motor for testing and
experimenting facility in university. The hardware components mainly are linear
motor and motor driver from Copley Controls. The software used for to configure the
motor driver for commutation modes is called CME 2 software from Copley
Controls. After the installation of all components is completed, the character of the
motor in different profiles is analyzed from the data obtain from the scope tools of
CME 2 software.
Actions (login required)