Muhammad Imran Iskandar bin Ibrahim, Muhammad Imran Iskandar (2011) Solar Eletrical Power Generation Stabilization System(Select_PGSS). [Final Year Project] (Unpublished)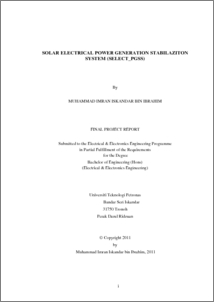 Preview
PDF
FYP1101-Muhammad_Imran_Iskandar.pdf
Download (2MB)
Abstract
The demand for electricity is increasing annually, where it is projected that in the year
2030, the total demand in Malaysia will be 100Mtoe. Under the earlier Malaysian
Plans, the four fuel diversification policy that was introduced focused on oil, gas, coal
and hydro. But in the 8th Malaysian plan, the scope was broadened to include
renewable energy resources as the new five fuel strategy, which was implemented,
starting from 1999. The main challenge facing the renewable power sector is
sustainability that is needed to ensure the security and reliability of electricity
generation, generally and the need to stabilize renewable based electricity. The
conventional electricity generating systems face problems such as high volatility in
fuel prices and also possibility of fossil fuel depletion, sooner than projected. The
focus of this project is on Solar Electricity Generating Systems (SEGS). Although
SEGS are already being implemented, but issues due to the intermittent nature of
solar insolation, which is highly dependent on meteorological conditions and on the
apparent trajectory of the sun, the electricity generated is not stable. Usually, a simple
charge controller is used to control the charging of the batteries. A comprehensive
power conditioning system is required to improve the quality of power supplied
directly to load, and the batteries as well. A voltage stabilizer plays an important role,
and in this study, it is achieved by combining the boost, buck, and buck-boost
converters topologies in a single circuit. The prototype stabilizer that was built can
produce output as high as 20V and the desired value of the output can be set by the
user digitally. The operating range of voltage of the stabilizer is between 3V and 19V.
It is controlled by PIC16F877. The ripple of the stabilizer is around 22%.
Actions (login required)