Tania, Tracy anak Baring, Tania Tracy (2011) Design and Simulation of a MEMS-based Piezoelectric Power Generator. [Final Year Project] (Unpublished)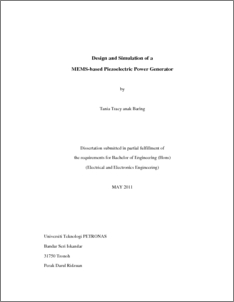 Preview
PDF
Tania_Tracy_anak_Baring.pdf
Download (1MB)
Abstract
Wireless node sensor network are fast becoming a popular option in
commercial technology advancements, particularly in the equipment or process
monitoring. To power these appliances, batteries are usually used to run the devices.
Currently, researchers are looking into the possibility of converting the environment
vibration energy (from vibration sources e.g. industrial machines, transportation
vehicles) into a low power electric energy, sufficient enough to activate and run the
sensors. In this project, the mechanism for piezoelectricity power generation was
studied, with the view of integrating into a MEMS-based power generating chip. The
design and mathematical formulation are put together before simulating the device
using the CoventorWare software. At the end of the project, an optimized design
should be achieved, in addition to device simulations to verify its performance. This
will enable engineers in creating the ideal MEMS-based piezoelectric device in the
future.
Actions (login required)