NUR SYAZWANI BINTI MOHD NASIR, NUR SYAZWANI (2009) Static Synchronous Compensator (Statcom) And Its Role In Power Transmission Network. [Final Year Project] (Unpublished)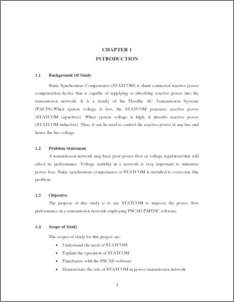 Preview
PDF
FINAL_REPORT_FYPII.pdf
Download (859kB)
Abstract
Due to the increment in load demand, the power systems have experienced
continuous changes in their configuration. There are increment in the existent
interconnections and the use of faster controls. Although the addition of these new
elements to the system is to result in a more economic and reliable operation, they
have also contributed to low voltage stability in the power transmission network.
Thus, Static synchronous compensator or STATCOM is installed to overcome this
problem. This project has the purpose of using STATCOM to improve the power
flow performance in a transmission network employing PSCAD Software. The basic
principle and theory of FACTS controller and STATCOM are discussed. While the
simulations of 5-bus system of various cases are analyzed to show the role of
STATCOM in improving voltage stability using the PSCAD EMTDC software.
Actions (login required)