MOHD HAFIZ BIN AHMAD SHAKIR, MOHD HAFIZ (2009) Partial Stroke Testing of Emergency Shutdown Valve (Masoneilan). [Final Year Project] (Unpublished)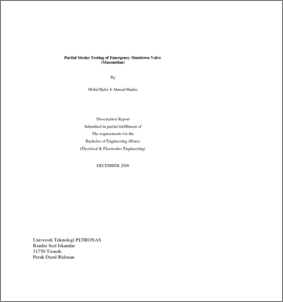 Preview
PDF
mohd_haiz_amad_shakir_7013.pdf
Download (1MB)
Abstract
This documentation presents the basic research on Emergency Shutdown (ESD)
valves testing design requirements to conduct the valves control. The inability to conduct
Full Stroke Tests (FST) during the Partial Stroke Tests (PST) has forced this research to be
conducted. Basically the project is about designing and programming a controller using
software for controlling the f inal element instrument device in this case the emergency
shutdown valve to open and close. The significant of this project is to overcome the inability
of Emergency Shutdown System valve in the plant or platform to operate sm oothly and
successfully. In current situation, most of the final element valve failed to conduct the Full
Stroke Tests due to ESD valves become stuck since the ranging years for the testing is about
3 to 5 years. This project will also emphasize in designing the logic controller using Ladder
Logic Diagram on a Programmable Logic Controller (PLC). There are two (2) methods being
implemented to complete this project successfully which would involve designing and testing
procedures. Both steps are implemented to get the data for analysis purpose in the final part
of the project. In order to understand and perform well , some and further research have been
done to understand the software and the instrument itself. Basic knowledge of Partial Stroke
Testing and Full Stroke Testing has been mastered as well as the software for developing the
system. From the early results and findings, the project has reached the basic objective that is
to perform the Full Stroke Test during the Partial Stroke Test. For better analys is and results
oriented, there should be some improvement to be done including the software configuration
and parameters.
Actions (login required)