MUHAMAD HILMI BIN SUFYAN, MUHAMAD HILMI (2009) Designing and Simulating Micro Fluxgate Sensor. [Final Year Project] (Unpublished)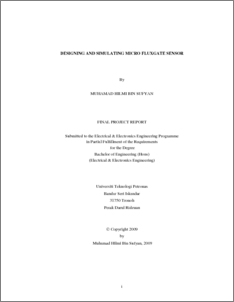 Preview
PDF
Muhamad_Hilmi_B._Sufyan_(7429).pdf
Download (3MB)
Abstract
The objective of this project is to design a micro fluxgate sensor using
Coventorware software. This project is focusing on designing a fluxgate sensor in
micro scale for sensing the magnetic field. Micro fluxgate sensor can be widely
applied in the conventional and potential fields, for examples, scientific research,
automation, process control of industry, mineral prospecting, medical appliance
and satellite missions. The collection of technical details and data regarding the
harmonics of magnetic field, micro fluxgate sensor and its conditioning circuit
existing in the world is done. A 3D model of micro fluxgate sensor is designed
using Coventorware software in its Architect and Designer applications. A simple
analysis of micro fluxgate sensor is carried out to after designing the 3D model of
micro fluxgate sensor.
Actions (login required)