Farhana binti Kamarudin, Farhana (2010) Carbon Dioxide Removal by Using Silica Based Membrane. [Final Year Project] (Unpublished)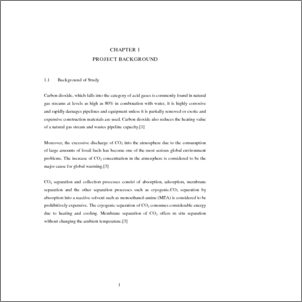 Preview
PDF
Farhana_binti_Kamarudin.pdf
Download (1MB)
Abstract
Practically in industry use amine adsorption as an absorbent for removing carbon dioxide which is categorized under acidic gas group. However the cost of acid gases removal by using the mixed amines system is highly expensive. One way to reduce the cost of amine is by replacing amine adsorption with other method which is more economical and easy to optimize called membrane technology.
This porous silica membrane layer provides the stability and allows a free flow of the compounds that permeate through the selective layer. They can operate at elevated temperatures, with many ceramic membranes usable at over 1000°C. They are also much more resistant to chemical attack, have excellent thermal stability and resistance to corrosive liquids and gases. Inorganic membranes compete with organic membranes for commercial used. In many of the harsh operational environments listed above, organic membranes will not perform well, or will not survive at all. For these environments, only inorganic membranes offer needed solutions.
This research project consists of two experiments; preparation of α-Alumina Substrate and Preparation of silica Membrane using sol-gel method. For the first experiment the goal is to achieve 20-25% porosity of the substrate. For the second experiment, nitric acid is used as a catalyst for silica sol preparation because of its low branched cluster that will result a narrower pore size of the porosity substrate. The effect of dipping time (1,2 and 3 hours) during dip-coating of the porous alumina support also been studied and it resulted the silica membranes with 3 hours dipping time gives highest CO2 permeance.
Actions (login required)