Muhammad Suhair bin Razlan, Muhammad Suhair (2010) Microwave Decomposition Of Malaysian Biomass. [Final Year Project] (Unpublished)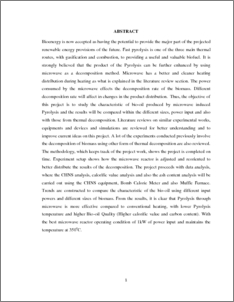 Preview
PDF
MUHAMMAD_SUHAIR_RAZLAN_9423_CHEMICAL_ENGINEERING.pdf
Download (2MB)
Abstract
Bioenergy is now accepted as having the potential to provide the major part of the projected
renewable energy provisions of the future. Fast pyrolysis is one of the three main thermal
routes, with gasification and combustion, to providing a useful and valuable biofuel. It is
strongly believed that the product of the Pyrolysis can be further enhanced by using
microwave as a decomposition method. Microwave has a better and cleaner heating
distribution during heating as what is explained in the literature review section. The power
consumed by the microwave effects the decomposition rate of the biomass. Different
decomposition rate will affect in changes in the product distribution. Thus, the objective of
this project is to study the characteristic of bio-oil produced by microwave induced
Pyrolysis and the results will be compared within the different sizes, power input and also
with those from thermal decomposition. Literature reviews on similar experimental works,
equipments and devices and simulations are reviewed for better understanding and to
improve current ideas on this project. A lot of the experiments conducted previously involve
the decomposition of biomass using other form of thermal decomposition are also reviewed.
The methodology, which keeps track of the project work, shows the project is completed on
time. Experiment setup shows how the microwave reactor is adjusted and reoriented to
better distribute the results of the decomposition. The project proceeds with data analysis,
where the CHNS analysis, calorific value analysis and also the ash content analysis will be
carried out using the CHNS equipment, Bomb Calorie Meter and also Muffle Furnace.
Trends are constructed to compare the characteristic of the bio-oil using different input
powers and different sizes of biomass. From the results, it is clear that Pyrolysis through
microwave is more effective compared to conventional heating, with lower Pyrolysis
temperature and higher Bio-oil Quality (Higher calorific value and carbon content). With
the best microwave reactor operating condition of 1kW of power input and maintains the
temperature at 350oC.
Actions (login required)