Ho, Ching Sheam (2010) The Suitability of Barite from East Coast of Peninsular Malaysia as Weighting Agent in Drilling Fluid. [Final Year Project] (Unpublished)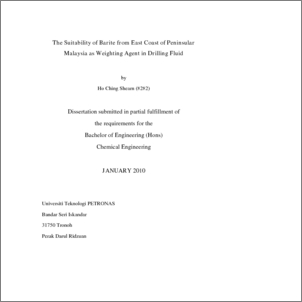 Preview
PDF
Ho_Ching_Shearn.pdf
Download (824kB)
Abstract
A drilling fluid, or mud, is any fluid that is used in a rotary drilling operation in which that fluid is circulated or pumped from the surface, down the drill string, through the bit, and back to the surface via the annulus.
Drilling fluid is crucial for a successful drilling program. From functioning to transport the rock cuttings to surface, its applications have become more diverse nowadays as the drilling operations are becoming more and more complex. One physical property of a drilling fluid critical to carry out many of the desired functions is its density.
The density of drilling fluid is adjusted to balance or somewhat to overbalance pore pressures encountered in the course of drilling. Imparting positive pressure into the formation is of paramount importance in order to prevent inflow of formation fluid. Moreover, the pressure of mud column is important to stabilize the uncased section, particularly in the unconsolidated formation.
Among the additives that are designed to give certain properties to drilling fluid, a weighting agent is used to increase the density of drilling fluids while minimizing the increase in the resistance to flow of the drilling fluid. Several minerals have been identified to be potentially used as weighting agents including barite, hematite, dolomite and illmenite. However, a combination of factors has made barite to be the most preferred choice compared to others. A drilling grade barite normally includes at least 85% by weight particles less than 75 microns and greater than 6 microns in equivalent spherical diameter [6]. (Nattier & Shumate, 2003)
Naturally occurring barite contains 50-70 percent BaSO4. The remaining impurities are quartz and various silicates that may include dispersible clays. In order to be used as drilling-grade barite, the barite ore must meet the physical and chemical requirements as dictated in API 13-A: Barite physical and chemical requirements. [3]
Actions (login required)