Awang Besar, Erfan Ruzalfian (2013) Development of Conceptual Design Support System for Mechanisms. [Final Year Project] (Unpublished)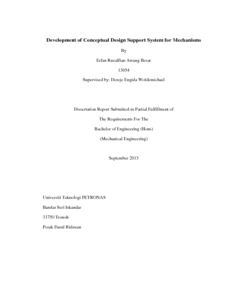 Preview
PDF




Development of Conceptual Design Support System for Mechanism.pdf


Download (8MB) | Preview
Abstract
Conceptual design of mechanisms was primary based on the designer. In order to
get good design, designer has to design a concept that reach its criteria as well as
acceptable cost. The reason behind this research was that experienced designers create
complex mechanisms, in part, by creating abstract representations of simpler building
blocks by combining various mechanisms. Every machine has their own mechanism
which consists of functions and for every sub-function have their own conceptual
design. In order to make designer easier in their designing of a machine, creating a
database that can help designer to choose the most compatible and relevant with the
machine. Designing a machine or product need a collaboration of many expertise from
different disciplines. Other than that, designing manually will need a lot of time during
concept evaluation. Based on a systematic investigation of hundreds of existing
mechanisms and machines, firstly identified the set of functions and sub-functions for
mechanism design that have in a machine or known as functional decomposition. After
that concept generation will be done where the software will automatically generate a
morphology chart of conceptual design base on the functions for mechanism design that
already been identified in a machine early on. The designer can manually remove any
conceptual designs that are not compatible or irrelevant with the design during the
morphology chart. The software will then continue with concept combination to make a
synthesis to generate a few concepts variant and lastly concept evaluation where all the
concept variants will be automatically evaluate and rank. At the end of the process, the
designer should get a design of machine with most compatible conceptual design. The
limitation of this thesis is it only limited to only mechanisms.
Actions (login required)