Hui, Dandy Lau Jing (2014) Development of an Activity Recognition System Using Accelerometers. [Final Year Project] (Unpublished)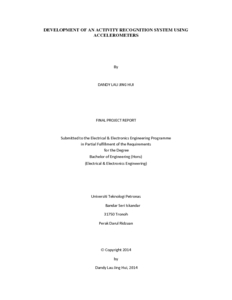 Preview
PDF




Dandy_Final_Report.pdf


Download (3MB) | Preview
Abstract
Body Sensor Network (BSN) is a great area of interest in nowadays research due to the increase in demand
of quality in healthcare. There are many applications and systems developed which are used to aid in
monitoring health status of the people. With the increasing number of elderly people that live alone at most
of the time or all the time, activity recognition system based on BSN can help in monitoring their activities
at home. These systems could be further developed to integrate with telecommunication system so that it
can alert the related parties should there be any emergency or potential threat of the home alone elders
which would cost life, for instance falling down. This project is focused on developing an activity
recognition system which is economic and lightweight for the use of elderly people such that it can
accurately recognize some basic activities which are performed by the wearer. Different activity recognition
systems are reviewed. Important factors especially the cost and size of the designed system are the priority
for choosing the hardware. The prototype is built after deliberate studies and outlining the specifications
according to requirement. An analytical software was developed using MATLAB to further illustrate the
functions of the system. With accelerometers that capture the acceleration rate of different activities and
Decision Tree algorithm for classification, the system is able to predict accurately the activity performed
by the wearer. With two accelerometers (at thigh and ankle each), the system achieved overall accuracy of
94.7% in terms of recognition, an improvement of 27.3% as compared to system with one accelerometer.
Actions (login required)