Azmi, Muhammad Hassanei Heykal (2014) Effect of Drilling Mud Contamination on the Properties of Waxy Crude Oil. [Final Year Project] (Unpublished)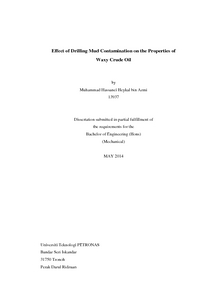 Preview
PDF




DISSERTATION (2).pdf


Download (2MB) | Preview
Abstract
The operation of well drilling requires the use of drilling fluid which, in this case is drilling mud. Drilling mud is very crucial in the drilling process. Without it, it is nearly impossible to drill wells with the rotary method. The use of drilling mud during drilling process in the exploration of newly found reservoir may affect the crude oil. Problem occurs when the drilling mud mixed with the crude oil at the reservoir being drilled at earlier stage. This occurrence leads to contamination of waxy crude oil with the drilling mud. Due to that, the properties of crude oil such as pour point temperature, wax appearance temperature (WAT) and wax disappearance temperature (WDT) and yield stress may change.
These real properties are very crucial to for an engineer to design any facilities related in handling such hydrocarbons. The hydrocarbon sample is usually taken at the bottom of the well at the early stage of the production. The contamination of drilling mud into waxy crude oil may lead to inaccurate properties when the sample is examined. This may further lead to wrong data used in designing certain facilities, especially for upstream facilities. Therefore, it is important to study the effects of the presence of drilling mud on the property of the crude oil (which in this case is waxy crude oil) extracted. Several related test methods are used in order to study the behavior and characteristics of the contaminated crude oil. These test methods include bottle test, pour point test, rheology test and microscopic observation.
Bottle test results showed that the mixture requires sometimes to stabilize and separate into its individual component. Nevertheless, complete separation was never achieved during the observation period and created intermediate layer (densed mixture between waxy crude oil and the drilling mud). The work found that the presence of drilling mud did not significantly affected that pour point and freezing point of waxy crude oil, however, it change the WAT and yield stress considerably. Based on the work, it is suggested that that the fresh sample taken from the newly found reservoir was subjected to a bottle test for three days to settle down the drilling mud and get waxy crude oil layer. After that, waxy crude oil from the upper layer can be collected and tested to reveal the real properties.
Actions (login required)