Ahmad Suhaimi Bin Sokiman, Ahmad Suhaimi (2010) Effects of Wall Temperature on the Viscoelastic Fluid Flow through Gradual Contraction. [Final Year Project] (Unpublished)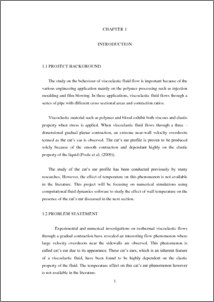 Preview
PDF
Ahmad_Suhaimi_Bin_Sokiman.pdf
Download (768kB)
Abstract
This preliminary report will provide the readers about the preliminary research regarding "Effects of Wall Temperature on The Viscoelastic Fluid Flow through Gradual Contraction".
The project main purpose is to study the effect of temperature to viscoelastic fluid with shear thinning properties that flows through planar gradual contraction. In isothermal condition where the wall temperature and the fluid temperature is the same, a unique velocity overshoot is observed near the sidewalls. This phenomenon is termed as cat's ear. Further study needs to be carried out to determine how the temperature difference will affect the cat's ear formation.
The report comprises of three sections followed by a conclusion. The first section is the introduction that focuses on the background of the project, the problem statement, the objective, and the scope of study. The second section is the literature review of the studies that includes the citation and cross references to other related studies performed earlier. The final part is the methodology of the project. It includes the work flow of the project and the Gantt chart of the activities throughout the semester. As for the conclusion, the author wraps this report with a short but concise conclusion.
Actions (login required)