Annaorazov Rejep, Annaorazov (2010) Fundamental Study of Sprays of Different Fluids. [Final Year Project] (Unpublished)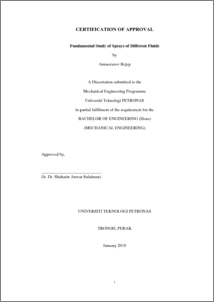 Preview
PDF
Annaorazov_Rejep.pdf
Download (1MB)
Abstract
The demand for petroleum based fuel increases because of growing transportation
industry. Besides petroleum fuels, there are alternative fuels, such as ethanol,
biodiesel, propane and hydrogen. Alternative fuels need to be developed to meet high
demands of fuel, to increase the efficiency and to make transportation more
environmental friendly. This report is about fundamental study of alcohol sprays.
The concept of alcohol sprays is not well understood and research on this topic needs
to be done in order to gain more information and to make this information useful.
This concept is applied in the combustion chamber. The purpose of this report is to
represent an introduction about the project and state the problem along with the
objectives and methodology used to solve the problem. The first chapter makes brief
introduction to the project. The report continues with the second chapter, which is
literature review. Then it is followed by methodology. Conclusion part summarizes
the report content. The objective of the present research is to study characteristics of
different fluid sprays which are mean velocities and droplet sizes. It also observes the
break up structure of different types of different fluid sprays. The study focuses on
two points, which are: characteristics of fluids and the observation of the structure of
alcohol and measurement of spray angle at nozzle exit. Spray characteristics of four
different fluids (methanol, ethanol, diesel and water) are analyzed by Laser Doppler
Anemometry (LDA) and Phase Doppler Anemometry (PDA). Laser Doppler
Anemometry (LDA) systems were used to measure droplet velocities of fluid sprays.
Phase Doppler Anemometry (PDA) systems were used to measure the droplet sizes
of fluid sprays. These results were compared with other fluids such as diesel, water
and oil. All the results are analyzed to further understand the characteristics of four
different fluid sprays. Digital camera was used in order to observe the structure of
fluids and to measure the spray angles at nozzle exit. Spray angle variations were
observed under different pressures for each fluid.
Actions (login required)