Savarimuthu, Rejinah Jessy (2014) Development of the RF Energy Harvester Circuit. [Final Year Project] (Submitted)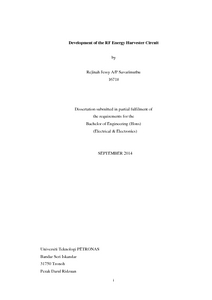 Preview
PDF




[COMPILED] FYP DISSERTATION - REJINAH JESSY (16718).pdf


Download (2MB) | Preview
Abstract
Energy Harvesting is motivated by the urge to address the issue of climate change
and global warming also brought to an inspiration to use RF energy harvester circuit
as an alternative for battery usage on the fire fighter wearable GPS tracking sensor to
avoid the cause of explosion. This project is based on the idea of harvesting the
ambient RF energy. The desired RF energy (GSM-900) will be captured by a
receiver antenna in which it will be harvested as a DC voltage levels by the well
designed RF energy harvester circuit. The receiver antenna is not considered as part
of this project due to a critical stipulated time frame provided. The RF energy
harvester circuit is formed by the stages integration of ceramic capacitors and
Schottky diodes. Many models of the conventional rectifier circuit have been
considered however an optimal stages design of RF energy harvester circuit are
developed in this project from the analysis done on Dickson's voltage doubler
topology. The harvested energy from the output of the RF voltage rectifier circuit
will then be used to energize the electronics devices with small electrical
specifications. By using GSM-900 frequency band as the source of energy, both
uplink and downlink frequencies are taking part in the RF energy harvesting.
Nevertheless the most suited printed circuit board are investigated and its criteria is
taken into consideration in designing the entire system of harvester circuit to achieve
a lower loss output.
Actions (login required)