Mohamed Talaat, Mohamed Farid (2015) Conceptual Development of non-conventional steam turbine. [Final Year Project] (Unpublished)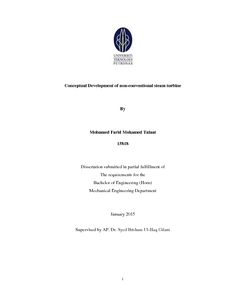 Preview
PDF




Dissertation-Mohamed Farid-15818.pdf


Download (1MB) | Preview
Abstract
The quest of searching for new sources of energy has been motivated by both economic and political reasons. This made the industry look into resources that were overlooked before. Steam engines show a promising future of generating electricity off the gird.
However, the conventional steam turbine's power conversion efficiency of is 20% to 38%. A conventional steam turbine that has conversion efficiency over 60% does not exist. 2/3 of the energy is wasted in the conversion cycle. Most of the wasted energy comes out as low pressure steam at the outlet of the turbine. Therefore in this research a new concept steam engine will be designed to convert the low pressure steam into useful mechanical energy or work.
This project aims to create a CATIA simulation model of the new conceptual design of the green steam engine. These types of engines are more efficient than the ancient steam engines, because simply the Flex Rod mechanism and the "Z" drive replaces the standard bell crank which leads to straight line, intermittent movement that eliminates side forces. Those side forces has a great contribution in the friction force during the operation of the conventional steam engines
After creating the model, an excel sheet was made to determine the power output of the engine with the ability to simulate using different these parameters.
Actions (login required)