Jamaludin, Hazirah (2015) Experimental Study on the Influence of Water-in-Diesel Emulsion (WiDE) Characterization on Microexplosion Occurrence. [Final Year Project] (Unpublished)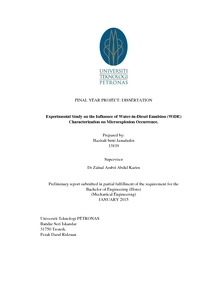 Preview
PDF




Dissertation.pdfas.pdf


Download (1MB) | Preview
Abstract
Emission regulations continue to get more stringent, exacerbating the need to find a solution for the emission of gaseous pollutant and particulate matter from diesel engines. Various studies reported the success of Water-in-Diesel Emulsion (WiDE) in solving the emission issue through the microexplosion phenomenon. A study on the basics of this occurrence and its influencing parameters plays a major role in the combustion improvement. A very close attention was given to the changes in viscosity, density and water droplet size in this research due to their pronounced effect on the mixing process and injection system
Physical characterization tests was carried on 16 stable WiDE samples with various water content, HLB value and surfactant percentage, to determine the viscosity of the samples at 40°C, the density of the samples at 15°C and the water droplet size of each samples. Through these test, only a few of the samples satisfy the France or Italy Water/Diesel Emulsions fuel regulations or the CWA15145 requirements and test methods was selected to undergo microexplosion test through a visualization technique.
6 samples was analysed and a correlation between water droplet size to the microexplosion temperature and time can be observed. However, no direct correlation between viscosity and density to the microexplosion phenomena can be concluded.
Actions (login required)