Syukri, Muhamad Safuan (2015) Thermal Simulation of Different Welding Speed and Metal Thickness for Butt-Joint Welding with ANSYS. [Final Year Project] (Unpublished)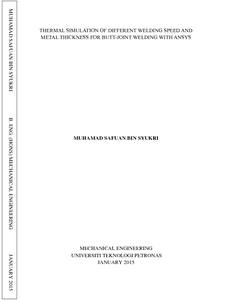 Preview
PDF




THERMAL SIMULATION OF DIFFERENT WELDING SPEED AND METAL THICKNESS FOR BUTT-JOINT WELDING WITH ANSYS.pdf


Download (1MB) | Preview
Abstract
Welding deformation in shielded metal arc welding (SMAW) frequently related to the
appearance of the weld specimen such as porosity, weld splatter, poor fusion, shallow
penetration, and cracking. Deformations on the weld area will influence the joining
strength and will produce a weld that prone to cracking. Deformations on the on the
weld usually caused by heat input during welding process that produced uneven
heating and cooling on the metal plate resulting residual stress and distortion on the
weld metal. To deal with this problem, study on few welding parameters that affect
the heat input delivered during joining process will be done. ANSYS Parametric
Design Language (APDL) software will be used to simulate actual welding condition
and the effect of variation of welding parameters in Butt-joint SMAW. Results and
data interpretation from the thermal model in APDL will be acquired to get the
optimum selection of welding parameters for SMAW.
Actions (login required)