Ishak, Ariff Rahman (2015) A Study of Hybrid Solar Air Conditioning. [Final Year Project] (Unpublished)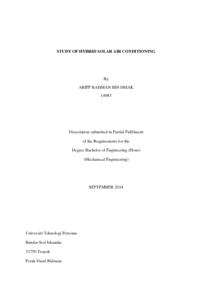 Preview
PDF




FYPII_Dissertation_14983.pdf


Download (2MB) | Preview
Abstract
In this progress report, it addresses several researches on the hybrid solar air
conditioner with its critical component and mechanism. Some calculation has been made to
determine the betterment of the proposed system of the solar air conditioner. Nowadays, the
necessity of having air conditioner at our home was highly demand at home and in public
areas due to the large demand for comfort in the thermal environment of living space in
modern society. Since the demand of the air conditioner had increase from year to year and
the air conditioner had consumed big amount of electricity to operate, a new system of air
conditioner has been discovered and developed which is by adding solar energy.
Air-conditioner consumes almost 50% of the primary energy supplied to a building.
The cooler the temperature, the bigger the energy or electricity needed to run the airconditioner.
60 % of the power consumed by the air conditioner is used by the compressor
whereas the other 40% is used to operate other components in air conditioning. Therefore, by
decreasing the consumption of electricity by the compressor may decrease the power
consumption of an air-conditioner.
This report discusses a new system of air-conditioning to decrease the power
consumption that uses the heat energy from the solar collector to support and enhance the
heating of refrigerant, thus decrease the work load of the compressor. It focuses on the new
system of the air conditioner which is a solar collector, added after the compressor in the air
conditioner cycle. The collector used for the experimentations is discussed and evacuated
tube solar collector is selected and the refrigerant used is R407. The project showing that the
propose design can reduce the power consumption by the air conditioner by about 30% lower
than conventional air conditioner.
Actions (login required)