Mohd Radzman, Mohamad Aizat (2015) Study of the Mechanical & Sound Absorption Properties of Natural Fibre (Corn Husks) as Reinforced Composite. [Final Year Project] (Unpublished)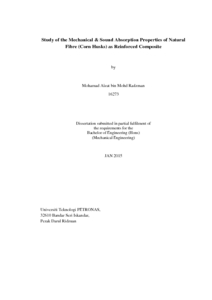 Preview
PDF




Aizat_16273_Dissertation.pdf


Download (1MB) | Preview
Abstract
Recent years have shown that the increase in noise pollution have become a problem in developing countries. The dependency on fossil fuel products, primarily plastic products is also a concern as environmental awareness and the issues of sustainability is much more discussed.
This research studies the sound absorption and mechanical properties of corn husks fibres as reinforced composites. Cornhusk fibre –Polyporpylene (CHF-PP) composites were made through compression moulding. Tests conducted were following the ASTM standard, C423 Standard Test for Sound Absorption and Sound Absorption Coefficient by the Reverberation Room Method and D638 Tensile Properties of Plastics.
The results shows that CHF-PP composite has an affective sound absorption capability and the tensile strength increases with the increase in fibre ratio.
Actions (login required)