Ma"amor, Nor Hazwani (2015) Characterization Studies of Thermoplastic Starch Enhanced With [Emim][OAc. [Final Year Project] (Unpublished)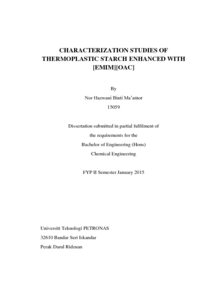 Preview
PDF




FYPII JAN2015 15059 NOR HAZWANI.pdf


Download (2MB) | Preview
Abstract
This study investigates the effect of using ionic liquid 1-ethyl-3-methylimidazolium
acetate [Emim][OAc] as plasticizer for the improvement of thermoplastic starch
(TPS) material. The physical and chemical properties of the TPS were studied and
investigated in this project. The results of morphology analysis with scanning
electron microscope (SEM), crystallography analysis by x-ray diffraction (XRD) and
thermal degradation by thermogravimetric analysis (TGA) show that 70% of total
plasticizer content mixed well during thermo plasticization process. [Emim][OAc]
caused starch granule to disrupt as shown by SEM due to its ability to access the
passages within the starch structure. By XRD analysis, it was shown that plasticized
starch at 70% total plasticizer content and 1:4 [Emim][OAc]/water ratio, made
disruption to the A-type crystalline structure, generated -type crystalline structure
and thus increased the mobility of the amorphous starch. The presence of
[Emim][OAc] promote the thermal degradation of starch molecules as described by
TGA as it slows the thermal decomposition rate of the starch. Therefore, plasticizer
content and [Emim][OAc]/water ratio were parameters that also influencing the
properties of starch-based polymer. The use of ionic liquid as an enhancement for
starch as fertilizer coating material fertilizer is anticipated to reduce volatilization of
ammonia into environment and increase its utilization by crops.
Actions (login required)