Md Fauzi, Muhammad Firdaus (2015) Development of Covalent Organic Polymer for Carbon Dioxide Capture. [Final Year Project] (Unpublished)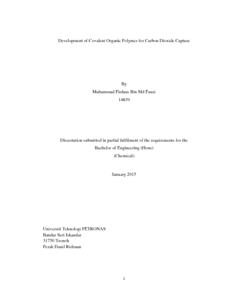 Preview
PDF




FYPIIJAN15_Firdausfauzi_14839.pdf


Download (1MB) | Preview
Abstract
Natural gas has transformed to become one of the most important energy source globally surpassing w4orld's oil demand due to the increase in energy demand and decreasing of conventional energy. With this increasing in energy demand, the oil and gas industry are forced to reevaluate previous reserve that seems economically unfeasible for processing. These reserves are abandoned due to high carbon dioxide content. Motivation towards conducting this study is due the unfeasibility of current conventional method for carbon dioxide capture in natural gas stream where they are unable to cater the high CO2 content from CO2 rich natural gas reservoirs. Therefore, the development of new alternative materials and technology is needed to overcome this problem.
The objective of this study is to synthesis and characterize covalent organic polymer (COP-1) for CO2 capture in natural gas stream. Development of COP-1 was chosen as the material due to its high CO2 uptake and its ability to withstand harsh hydrothermal conditions. However, current studies for COP-1 development are mainly focused towards removal of CO2 from flue gases. There are lack of information on its application in natural gas stream. Therefore, this study is focused on filling the gap for COP-1 application in natural gas industry.
Synthesis of COP-1in this study is done on a laboratory scale apparatus where the main raw materials for formation of COP-1 is by using Cyanuric chloride and Piperazine. Qualitative characterization of COP-1 conducted in this study is FTIR, XRD, and FESEM while the quantitative analysis includes the thermogravimetric analysis, BET surface area measurement, CO2 and CH4 uptake capacity and the hydrothermal stability.
Findings from this study shows promising outcome for the application of COP-1 in removal of CO2 from natural gas stream. It's significantly high CO2 uptake capacity and high stable under harsh hydrothermal conditions shows potential as alternative of current conventional method for CO2 removal from natural gas stream.
Actions (login required)