Idris, Mohamad Anwar (2015) CONCEPTUAL AND PRELIMINARY DESIGN OF UNMANNED GROUND VEHICLE IN MONITORING OIL AND GAS PLANT. [Final Year Project] (Unpublished)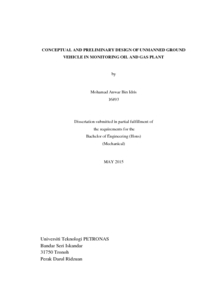 Preview
PDF




final disertation- anwar.pdf


Download (1MB) | Preview
Abstract
An Unmanned Ground Vehicle or UGV, as the name states, is a vehicle on the ground can
operated with or without any human pilot on board. This project involves designing a robust and
suitable UGV structure and integrating UGV technologies specifically to adapt in the harsh
conditions of oil and gas plant and providing monitoring of a human's eye view of the plant. The
process of designing will start from conceptual design until detail design. A design of UGV
consisting with robust structure to install sensors, camera, boards, and all the systems. The control
of this UGV will continuous by master student from electrical department. For design this UGV,
the author have study types of UGV, its function and ability. For the chassis, it will be modeled
using Autodesk Inventor or Solidworks software to ensure design is applicable. The expected
outcome of this project is finished prototype that can be maneuvered in two modes, manually and
autonomous. For now, the progress is up to detail design on the UGV and MSC ADAM view
analysis for motion system. In the result, the author will show the detail design and the analysis
how these UGV system function.
Actions (login required)