Sarifuddin, Siti Norakma (2015) Optimization of Mechanical Properties in Natural Hybrid Polymer Composite using Polypropylene (PP), Banana Stem Fiber (BS) and Pineapple Leaf Fiber (PALF). [Final Year Project] (Unpublished)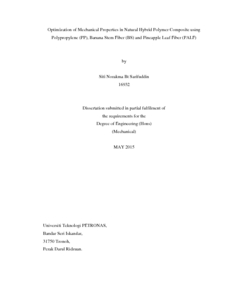 Preview
PDF




Dissertation_SitiNorakma_16932 (1).pdf


Download (1MB) | Preview
Abstract
A study was carried out to investigate the optimization of the natural hybrid
polymer composite which was made using polypropylene (PP) as matrix and banana
stem fiber (BSF) and pineapple leaf fiber (PLF) as a reinforcement. The coupling agent
which was Maleic anhydride grafted polypropylene (MAPP) was added in the
composite to improve the bonds between polymer and natural fiber. This study is was
aimed to investigate how two reinforcement in a single matrix will enhance the
mechanical properties of the composites. The banana stem fiber was hybridized with
pineapple leaf fiber to improve the mechanical properties of the banana stem fiber.
Hybrid composites were prepared using banana/pineapple fiber of 100:0, 70:30, 50:50,
30:70, 0:100 ratios while overall weight percentage of the fiber was fixed as 30 wt%.
The composite will be tested according to the standard for tensile strength (ASTM
D638), flexural strength (ASTM D790) and the morphology of the composite will be
studied under the scanning electron microscopy (SEM) machine.
Actions (login required)