Ruba'ai, Nur Amira (2015) A Study on the Performance of Splash Zone. [Final Year Project] (Unpublished)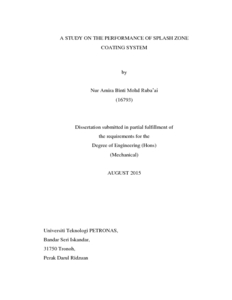 Preview
PDF




Final FYP Dissertation_NUR AMIRA.pdf


Download (1MB) | Preview
Abstract
Corrosion at offshore risers is one of the main threats in oil and gas industry.
Although new advanced technology is being applied to inhibit the corrosion problem
in riser, failure due to corrosion is still happening. Cause of the problem is suspected
that insufficient of coating thickness applied towards riser's material particularly at
splash zone. For that, experimental works is necessary to better understand these
parameters and modify specifications for improving fitness of pipeline and reducing
corrosion risks. Two methods are applied in these experiments which are Water
Immersion Test (D 870) and Pull-off Adhesion Test (D 4541). The pull-off adhesion
test was conducted in order to determine the strength of adhesion between the coating
and the substrate. In addition, water absorption rates (%) in this experiment were
recorded and calculated using weight metal loss method. From the analysis of results,
the effects of thickness in coating system when exposed to severe environments
were known. This study can help to take awareness and action to overcome the
corrosion of offshore risers in oil and gas industry in the future.
Actions (login required)