A/L AIYYAPPAN, BHUVANA RUEBEN (2016) A STUDY OF MECHANICAL PROPERTIES AND CRUSHING PERFORMANCE OF CARBON FIBER WOUND TO HDPE PIPE (CFWHP. [Final Year Project] (Submitted)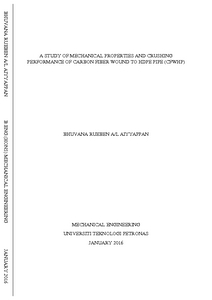 Preview
PDF




Bhuvana Rueben 15986 FYP Dissertation.pdf


Download (4MB) | Preview
Abstract
Carbon fiber-reinforced polymer, is a type of composite polymer which is highly
regarded as one of the best alternatives for light weight, strong and anti-corrosion
material. Composite polymer consists of 2 main constituent materials which are
matrix and reinforcement which are fabricated using the filament winding technique.
This material is vastly used in various industries such as the automotive industry, oil
and gas industry, aerospace industries and also industries that demands a high
strength-to- weight ratio criteria. The focal point of this research is to study the effect
of different carbon fiber tow arrangements on the carbon fiber tow wind to HDPE
composite pipe (CFWHP) and their mechanical properties. There are 3 types of
samples used in this project, both with different carbon fiber tow arrangements.
These samples will be then fabricated in SIRIM Permatang Pauh using epoxy resin
as the desired matrix to form the composite material. The first sample with an
arrangement of 4 fiber tows of 12k carbon fiber (total of 48k) with a winding angle
of 57°.
Actions (login required)